Gratitude, a Count down and an Update
After my big push to increase my blogging in October, it appears I've fallen back into my old ways. Some of you mentioned how down I sounded in my last post. I'm not going to lie. My battle with depression has been raging for the last month as I make some mental adjustments to all the changes in my life and I guess it showed.
I need to follow the Golden Rule of Blogging which is best summed up by my good friend, Thumper.
In other words, writing a post when you are in the doldrums is NOT a good idea. For the record, I want to mention that I am feeling better. I recognize that even though I was discouraged with myself for not accomplishing all I'd set out to do last month, I did get a lot done and any progress is a good thing.
With Thanksgiving this month, I know a lot of people are talking about gratitude. Usually in November on my personal Facebook page, I try to write a post a day of the things I'm grateful for. This year, my emotions have simply been too close to the surface for me to do this. Unless, I want to start the day off bawling. Not in a bad way, but just that it really doesn't take much to bring me to tears and thinking of the things I am profoundly grateful for is a surefire way to have me reaching for the Kleenex.
That said, I definitely have some things I am grateful for. It seems too obvious to state how grateful I am for my good husband and his willingness to live 1,500 miles away from us to provide for our family. He is a good man and I'm truly grateful he chooses to love me.
Besides my love for my husband and children, this year I am especially grateful for this guy, my brother-in-law, Mark.
Mark is married to my sister, Nancy. They have one of those blended his/hers/ours families and they have successfully made work. Mark had a heart attack last week. It could have ended very badly, but Mark's guardian angels, which I'm certain include his son, Kale, and my Dad, not to mention Mark's mom all got a work out this week. He was able to get the medical help he needed and his is on the road to recovery.
Mark is such an amazing husband and father. He's just good people, as are my other brothers-in-law. Our family is very blessed in that way.
This year, I am especially grateful to Mark for his sweet help and support to me during my Dad's funeral. Hubs wasn't able to attend my Dad's funeral with me and Mark stepped in and helped me through some very tough moments. He recognized a need that I had and he quietly filled it, making sure I had someone to help me through my grief. I'm so grateful to him for that.
Nancy says that it's not surprising Mark had a heart attack because he has such a big heart. He definitely does! The world definitely needs heroes and Mark, and my sister Nancy, are two of mine.
Okay, hold on….I've got to wipe off my tears and blow my nose. I told you, I'm a watering pot.
I'm also grateful for heat and water and working cars. Things that I've had to do without in one form or another over the last few weeks. I'm grateful I have the skills to fix my broken well pump so our family can take a shower without the water going out in the middle of the shower requiring the showeree to wrap up in a towel around their soapy self and trudge down two sets of stairs and into the bowels of the basement to wiggle the wire so the water comes back on. After two days of working on it, I finally got it fixed. Go me!
I'm grateful to heating repair guys who can get our furnace working and I'm especially grateful for family friends who give of their spare time to work on our car because my husband is out of town and can't do it. I'm also grateful for a sweet neighbor with a spare truck that he lets me borrow when I need to get my kid to school that is a 20-minute drive from our house because my other son needs our only vehicle to get to school 30 minutes away in the opposite direction. I'm very blessed to have some good people in my life.
I'm also very grateful for this last year that my daughter has been a missionary.
Baby Girl (the one in the middle) has taught me so much and I love seeing her joy and happiness as she serves God and the people in California that she is teaching. She is a true joy and I'm grateful for the things she is teaching me by her sacrifice and service.
I could go on and on, but my nose is stuffed up enough as it is. Despite the depression that has been dogging me the last few weeks, I am very grateful for my blessings and recognize that I have so much good in my life. I'm also grateful that the depression is easing and I'm able to get more done these days.
Talking about Miss Ryley brings me to the "Countdown" portion of this post. She just hit her one year mark which means she has six months to go. In the LDS church, sister missionaries serve for 18 months while young men serve for 2 years. She is trying to figure out her return date. Missionaries go home during transfers which happen every six weeks. She is currently scheduled to come home in late April, but that would be before her full 18-month mark. The next transfer isn't until early June and we want to move to Utah at the end of May which means she'd come home to Utah instead of Ohio. There are pros/cons to each option so she's got some figuring out to do.
Another countdown is the days until Hubs comes home this month. He will be here next Monday (6 Days!!) and will be home for 9 days. I can't wait to have him home. We are all missing each other so I'm ready for next week to hurry up and get here.
Finally, for the "Update" portion of the program, here is the kitchen ceiling in all its primed glory.
Before I primed it, I did test a sample of blue paint on the ceiling but it came out too Baby Boy blue. I have another color that I've matched to the actual Mason Jar that is my inspiration piece for the room.
It's a Valspar Signature Color called Glass Tile (CI 184) from Lowes. Don't go to Valspar's site to find these colors if you are interested. You will need to go to the Lowe's Website for them.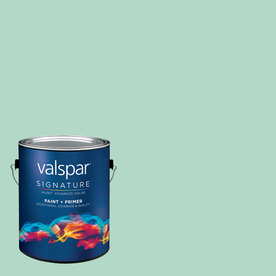 I also picked out Patina Blue (CI 17) for the small portion of walls that we have in the kitchen.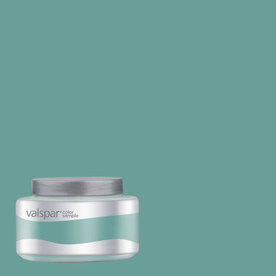 Both of these colors most closely match my inspiration piece and I'm hoping they look as good on the wall/ceiling as they do on the paint chips. Since I've already eliminated about 230 blue/green combination colors, I'm hoping this is it.
My goal is to get the ceiling, board and batten and cupboard bases primed before Hubs gets home next week. I'm using an oil-based primer as per several paint professional recommendations and, boy, does that stuff stink! I'm wearing a mask while painting to cut down on the headaches the smell gives me.
I have a little bit more filling and sanding to do before I can do all the priming and that's on my agenda for today. I finally got all the crown molding in this past weekend (I had to special order the rest) and I will prime and paint it before cutting and hanging it so I only have to do touch ups after I hang it. I think this will make it easier since I don't want to be taping off on the brick wall section and trying to paint it over the sink.
Okay, I'm off to sand and fill and paint. There is hope for me yet that I will get this kitchen finished!
---