Back in the Fall, I got a notice from Pick Your Plum about 4 sheets of chalkboard vinyl for $6.00. I figured that was a good price and I went ahead and ordered a set. If you're not familiar with Pick Your Plum, they offer daily specials on a variety of craft supplies. They have a limited supply so when you get the email, you better hop to if you want to get in on the special.
I bought the chalkboard vinyl and it languished in my office waiting for me to get around to using it. I always knew what I wanted to do with it, but it wasn't until I saw this picture on the Silhouette blog that it came together for me.
I used the ones marked number 5 and 10. Silhouette has these sketch designs as well as chalkboard versions. I used the chalkboard versions with just the outside line cut.
I added the title using the Dancing Script font. The days down the side are in the Quicksand Bold font. Buddy says I just should have cut "Pizza" next to Thursday since that is our pizza night. I cut the vinyl on the Fuzzy Vinyl setting since the program doesn't have an option for chalkboard vinyl. I also double cut the image.
Want to see how it turned out?
Here it is with some writing on it.
I cut out another frame, but I just did the outline so we're not limited on what we write on it.
I made sure to prep the vinyl with chalk before using it, but I'm not absolutely convinced this step is necessary. I bought a chalkboard marker for these frames and you just wash it off when you want to change it up. When you get the vinyl wet it removes all the chalk dust.
If you are going to use regular chalk, it doesn't hurt to rub in some chalk. I kind of like the chalky look over the straight black and white.
I honestly can't remember if I bought the pen from Hobby Lobby or JoAnn's, but that's all that I have in my town so it was from one of them. I think it was about $3 and I'm certain I used a 40% off coupon.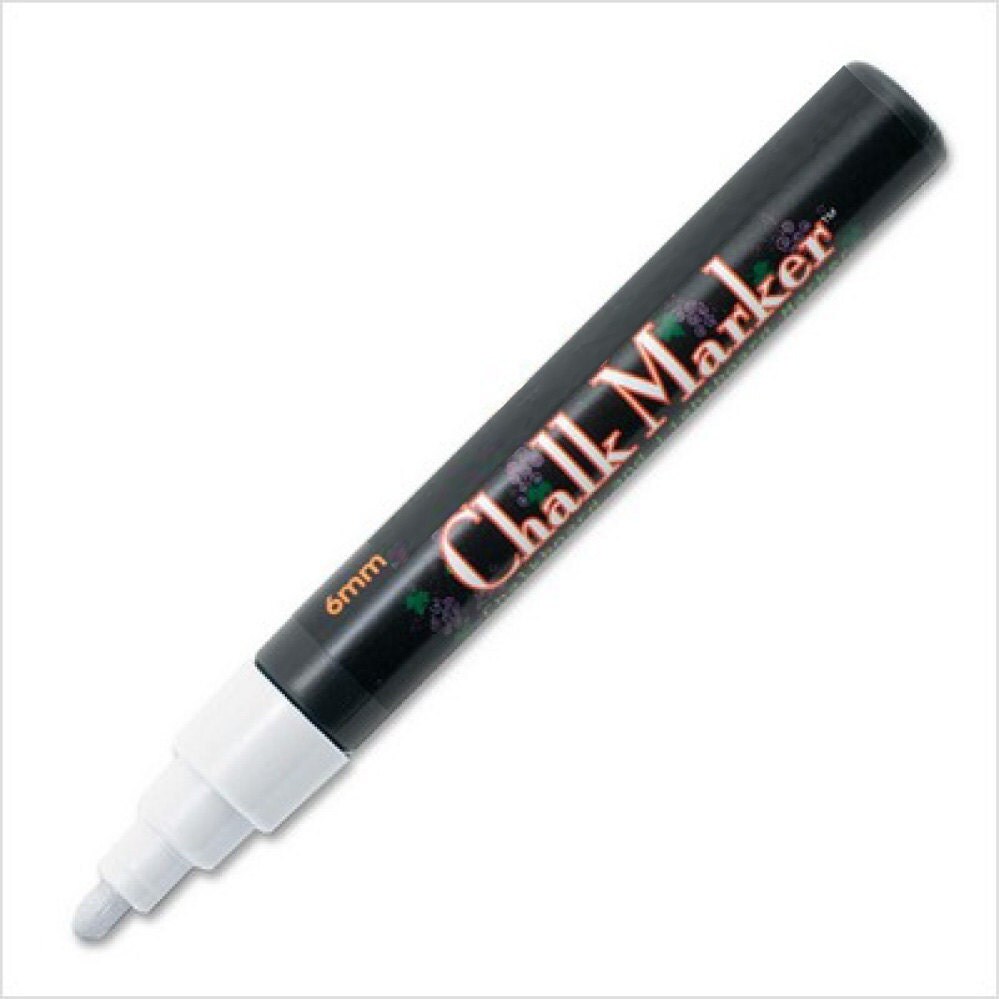 Katie was very interested in the boards. She noticed them when she got her milk this morning. I had her write a message to the boys. They get home from school before her bus brings her back from work. She actually used a real piece of chalk which is why the lines aren't as crisp as the other drawings.
Cleary, I need to work on my embellishments. I'll redo it once the boys see Katie's message.
Here's a distance shot.
Um….yeah. I guess I didn't see all the stuff on the fridge until I opened the picture. I'm just keeping it real here since there's a little bit of everyone on the fridge; Hub's lantern, Buddy's Slinky and Kiddo's Buckyballs, and my magnet art.
I love my ladies. They make me laugh. It's like having a real live Pinterest Board in my home. Since you probably can't read them, I put together a little collage for you. It's kind of hard to read the one on the top, left but it says, "She was tempted to cause a scene."
I used to have the gals on the side of the fridge to make the front of the fridge look clean, but I missed seeing them. The side of the fridge is a little out of hand at the moment.
I tend to forget about this spot since you can only really see it when you're at the stove. This picture was taken months ago, but you get an idea of the layout. My kitchen is not this clean today for an updated picture.
That yellow chart on the back of the fridge above the toaster oven is our old Family Home Evening (FHE) chart. Members of The Church of Jesus Christ of Latter-day Saints are encouraged to have a family night once a week to help increase our faith and to build family unity.
We made the chart years ago (2005?) as one of activities to help give everyone a responsibility during FHE. We partnered up and drew pictures of each other. It's one of my treasured items, even though we no longer use it.
We all joke about our pictures. Nathan (aka Man Child) was going through his long-hair phase and we say he looks like one of the Beatles'.
Ryley (aka Baby Girl) says she looks like a wolfman. You would not believe how hard it was to find a picture of the girl from that year where she wasn't making some sort of goofy face. She'd obviously cut her bangs by the time we drew these pictures. I'm certain the expression on their faces in the drawing is pretty accurate to the looks they were giving each other. If I recall, they were pretty much the McBickerson's that year, amongst others.
Noah's picture (aka Buddy) actually looks a lot like him, but the red lips get a lot of teasing.
Sam's picture (aka Kiddo) looks like him, too, but it also looks like one of our friend's sons (Willie McKinney).
I look like one of the Simpsons characters, but at least I'm skinny so I'm not complaining. Dave (aka Hubs) is not even the same race as the rest of us, but Noah did a good job of capturing Dave's likeness.
For building family unity, I dubbed it a successful activity. As far as looking like us…eh, not so much.
Where was I? Oh, yeah. Chalkboards. I love them. I love their whimsical shape and I like having a place to write on the fridge. I tried the dry erase markers, but it left a blue tint to my fridge that I could never really get clean. With the chalk marker I don't even have to worry about chalk dust. Bonus!
I like being able to see my plan for the week because it helps me think ahead about dinner and what I need to do to prepare. I envision using the note frame to let the boys know what snacks they can have or to remind of us important stuff or simply for Katie messages. We'll see how it pans out.
Project Breakdown:
Chalkboard Vinyl (9"x12") – $3.00 for two pieces

Chalkboard Marker – $3.00(ish)
Total Project Cost: $6.00
Total Project Time – About 30 minutes
Suesan
Thank you for reading Frou-FruGal. For more projects, please click to my site, http://froufrugal.blogspot.com